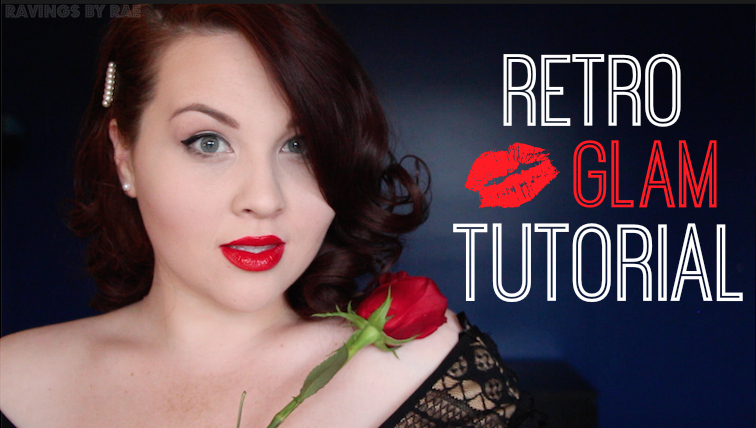 Makeup Looks: Retro Glam Tutorial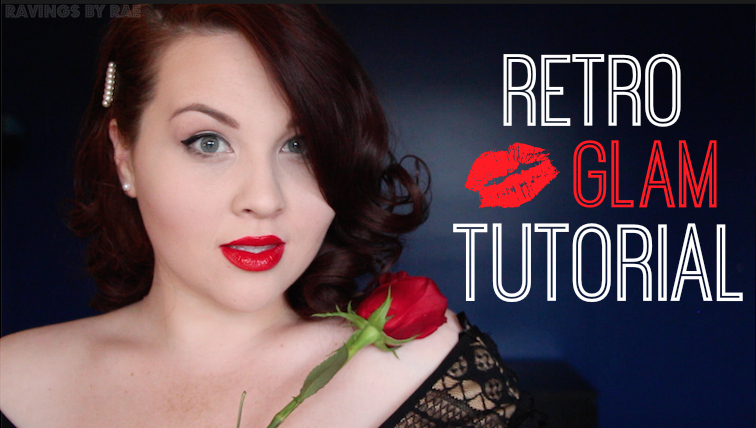 Do you ever get in a rut with your hair and makeup looks? I feel like I've been doing the same ol' face with the same ol' hair, and wanted to switch it up a bit. I've been testing out some new makeup looks recently and fell in love with this one. This retro glam face look is just what I needed to spice things up a bit.
For this beauty tutorial, I'm working in conjunction with #CollectiveBias and drawing my #BeautyInspiration from the one and only, Marilyn Monroe. You can't talk about retro, vintage, hollywood style glam and not mention Marilyn. Her beauty was flawless. Her personal life might've left some things to be desired, but there is no arguing that gorgeous face.
A new look requires some new makeup. I dropped by Walmart to pick up a bunch of new goodies. As I was browsing the shelves, I was drawn into the Rimmel London area when I saw the Scandaleyes Retro Glam Mascara. I had to buy it, obviously, it has retro glam in the title! Also, because the weather is changing, my skin is changing and I wanted to test out some new foundations. I picked up the Rimmel Stay Matte Liquid Mousse Foundation, because I've seen so much about it all over YouTube.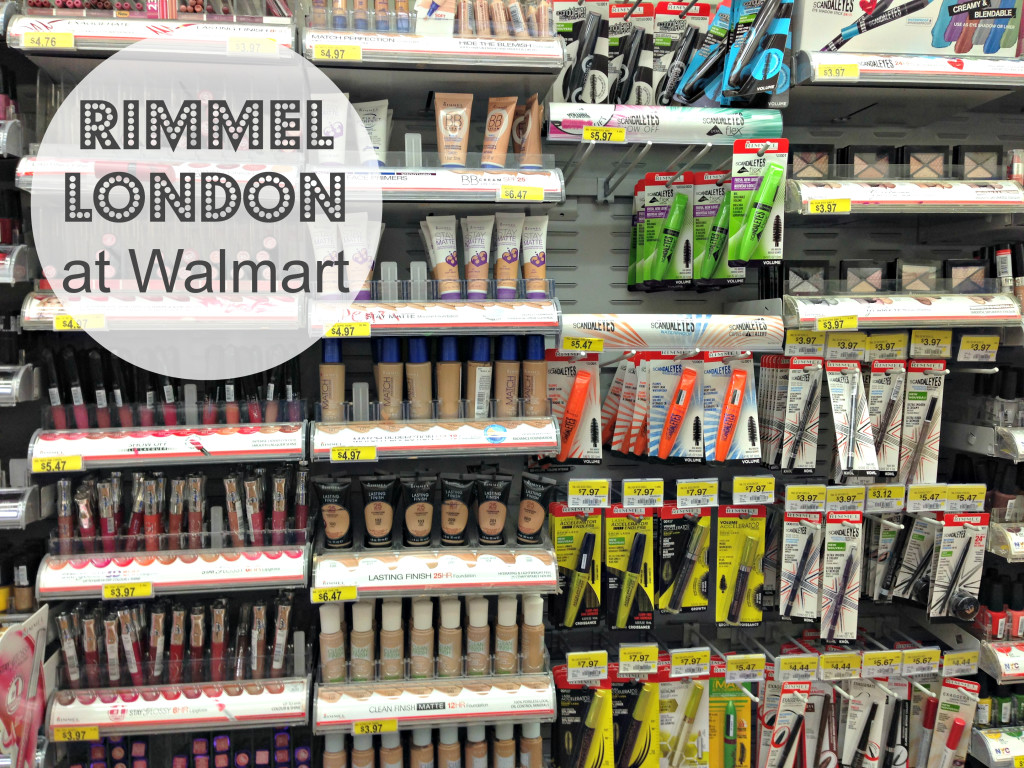 In order to achieve this retro glam look, I started off by putting my hair in pin curls. I curled my natural hair, no extensions (GASP!), and pinned the curls to my head while I did my makeup. Because I love you so much, I actually filmed a makeup tutorial. You can watch my never ending struggle with the cat eye below… 😉
Don't have time to watch my video? Not a problem. I have a 15 step tutorial for you below.
Retro Glam Tutorial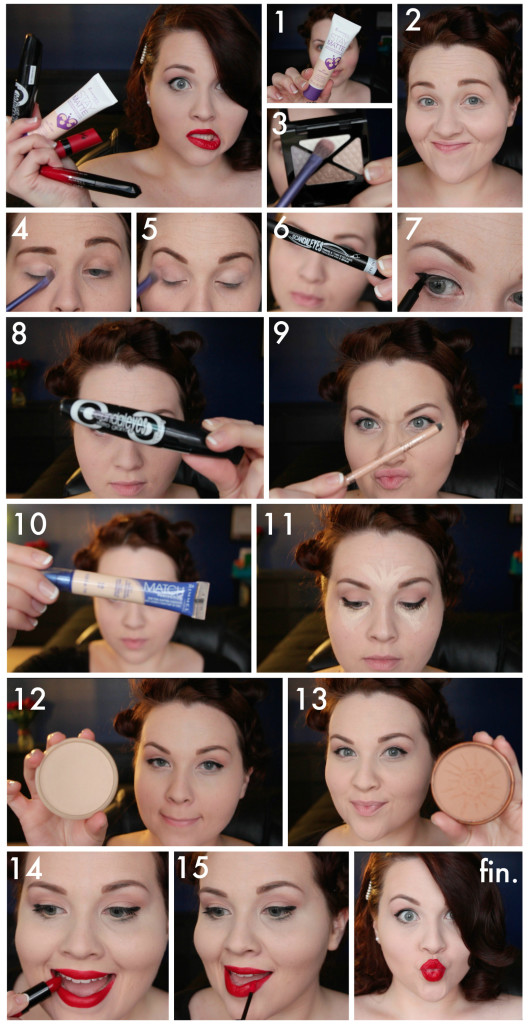 We are starting off with a primed face, and applying the Rimmel Stay Matte Liquid Mousse Foundation. Mine is in the color 091 Light Ivory. I LOVE the porcelain look this gave my skin. Plus it's only like $5, score.
After you've blended in your foundation, go ahead and pop on your usual brow. The bolder, the better for this look.
For this look, I wanted the shadow to be subtle so I used the Rimmel Glam Eyes Quad Eye Shadow in 018 Romantic Cool.
I dampened a shadow brush with some setting spray and took the white color "3" from the quad and packed it on all over both lids.
I took the pink color "1" into my crease with a dome brush and the golden brown "4" into the outer edges of my eyes.
I used the Rimmel Scandaleyes Thick & Thin Eyeliner for this look.
I wanted my liner to be the focal point of my eyes so I created a dark and thick cat eye. Not too over powering, but enough that you can see it.
Then I hit each eye with about 4 coats of the Rimmel Scandaleyes Retro Glam Mascara in the color 004 Carbon Black. Hold off doing your bottom lashes for now.
I swear by a black waterline.. but not today. I went in with the Scandaleyes Waterproof Kohl Liner in 005 Nude on my waterline. The nude color on bottom helps to open up your eye a bit and leaves the attention on the top liner. After you've applied the liner, hit it with some mascara. Just for good measure, I did another coat on my top lashes.
I grabbed the Rimmel Match Perfection 2 in 1 Concealer in the color 125 Fair during my Walmart trip.
I applied it all over beneath my eyes to cover up those dark circles. I also put it on the bridge of my nose and forehead to highlight.
I set my concealer with my favorite powder ever, the Rimmel Stay Matte Powder in 011 Creamy Natural.
I contoured my cheeks, jaw, forehead, and nose with the Rimmel Natural Bronzer in 021 Sun Light. This stuff is amazing. It's a little daunting in the package because it's so dark and I'm so light, but wow. It give the perfect sun kissed glow.
After you've blended everything out, we are going to hit those lips. I used the Lasting Finish by Kate Lipstick in 111 Kiss Of Life. This is the PERFECT RED LIPSTICK. Not too bright. Not too orange. Not too clown like. It's just freaking perfect.
I topped the lipstick with the Show Off Lip Lacquer in 400 Big Bang. I like a little shine on the lip and holy cow this stuff works amazingly. It lasts for awhile. The color pay-off is insane, and it's not sticky or annoying.
There you go, baby. Pop those pin curls out, throw on some pearls, channel your inner Marilyn, and you are ready to take on the world.
You can score a $1 coupon for the Scandaleyes Retro Glam Mascara and the Stay Matte Foundation in the Sunday paper. The makeup is already super inexpensive, but this really just sweetens the deal.
Visit Rimmel on Twitter//Facebook//YouTube//Instagram//Tumblr
[divider]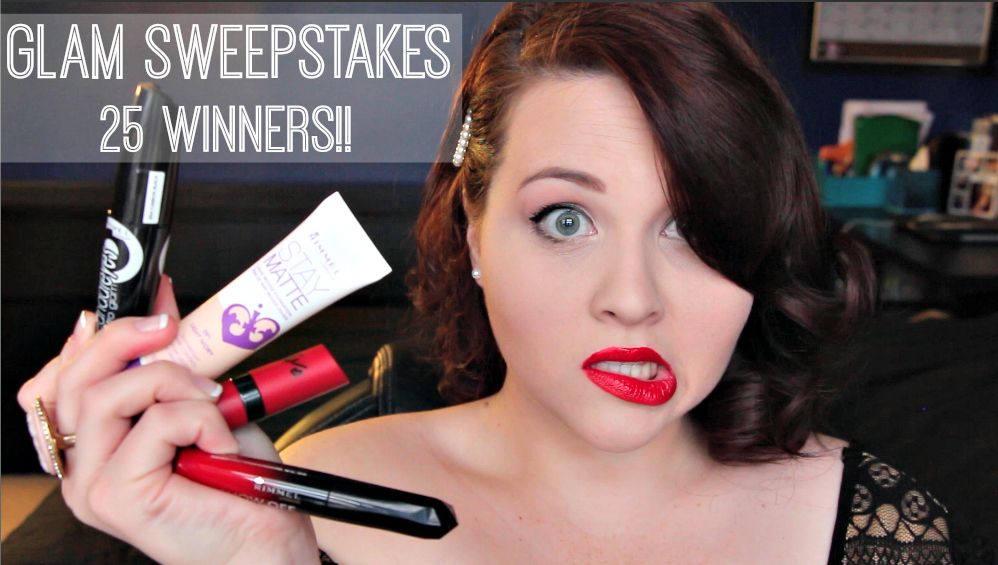 Now that you're itching to recreate this look, wouldn't it be awesome if you didn't have to buy a bunch of new makeup to do it? Well, it just so happens that Rimmel London is celebrating 180 years and we are celebrating by having a Gift Basket Sweepstakes! The sweepstakes will include $50 worth of popular Rimmel London products to achieve your favorite looks, and there will be 25 winners selected!
NO PURCHASE NECESSARY. The Coty® Rimmel® Giveaway starts at 4/2/14 at 12:00 A.M. (midnight) ET and ends on 4/25/14 at 11:59:59 PM ET. Open only to (i) members of the Social Fabric community, (ii) legal residents of the fifty (50) United States, the District of Columbia, and (iii) who are at least 18 years old at the time of entry. Click here for Official Rules and details including how to enter, entry criteria, prizes and restrictions, etc. Void in PR and where prohibited. Sponsor: Collective Bias, Inc.
Good Luck!