My Secret to Lifeproof Skin
In 8 days, I lived my life to the fullest with Vichy Idéalia as part of a sponsored post for Socialstars #LifeProofSkin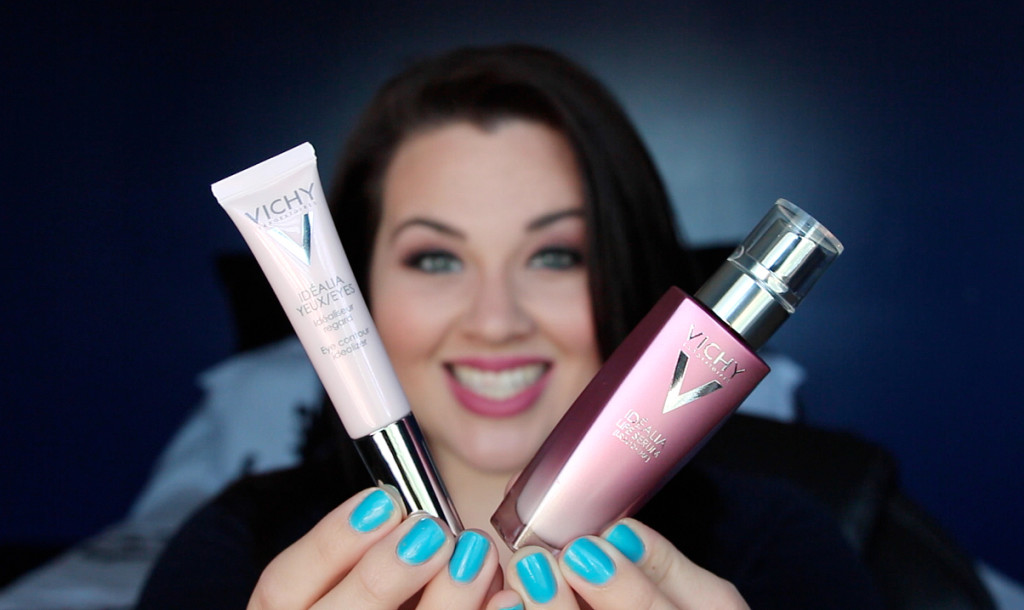 I'm getting old. Well, not OLD old, but I'm aging… rapidly. The worst part of turning 26 in a couple of months is that I'm being dropped off my parent's insurance plan (insert wailing here). While I'm sure I'll be able to snag a new insurance plan with no problem, I've been making sure to take extra good care of myself lately. Seeing as my normal dermatologist probably isn't cool with being paid in frappuccinos, I've been looking for alternatives to get lifeproof skin. 

Being someone that spends hours and hours in front of a camera every week, I need to have gorgeous skin. I don't have time for a high maintenance skin care routine, though. I have two kids, a full-time job, and a life.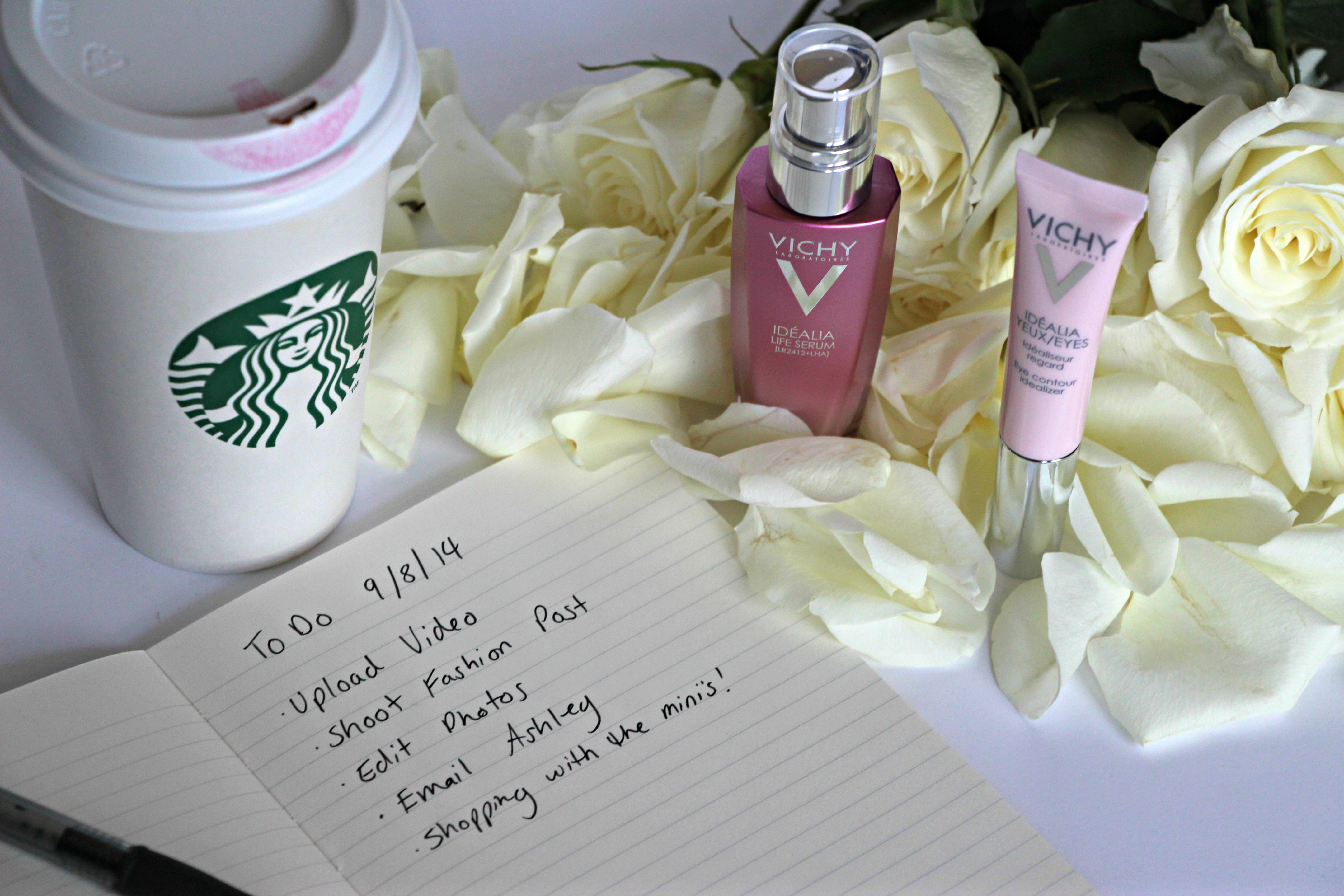 I recently started using Vichy Idéalia Life Serum and Ideal Eye Dual-Action Blur and Care and have been obsessed with them. Admittedly, I'm not typically a big fan of anti-aging or wrinkle reducing creams. I think wrinkles are A-OK and aging is quite the privilege. However, I do want my skin to look healthy, bright, and as youthful as possible.
After using both products for 8 days, I definitely noticed a difference. I noticed a difference well before the 8 days were over, actually. My dark circles and the redness in my face were both visibly reduced. My skin felt softer and smoother. I love this stuff. It let's me live my life to the fullest, without letting my skin show it.
Now, I had a rough week. I was back and forth from Chicago multiple times on business. The kids were sick. I was drowning in deadlines, and sleep didn't really fit into my schedule. Looking at me, you would've never known that I spent half the night fighting my snotty faced 3-year-old for a pillow.
Even though my skin didn't show my lack of sleep, by the end of the week… I was done. I was exhausted and couldn't even bring myself to put on makeup.
However, I was surprisingly comfortable leaving the house without so much as a bb cream on my skin, after using my Vichy Idéalia products for a few days. I don't normally leave the house without makeup, especially since people have been stopping me in stores to take pictures.
With my skin looking brighter, less stressed, and more youthful I'm not even worried about taking impromptu photos anymore. I do still wear gigantic sunglasses though, because even the best skin can't hide my unplucked eyebrows and yesterday's lash glue.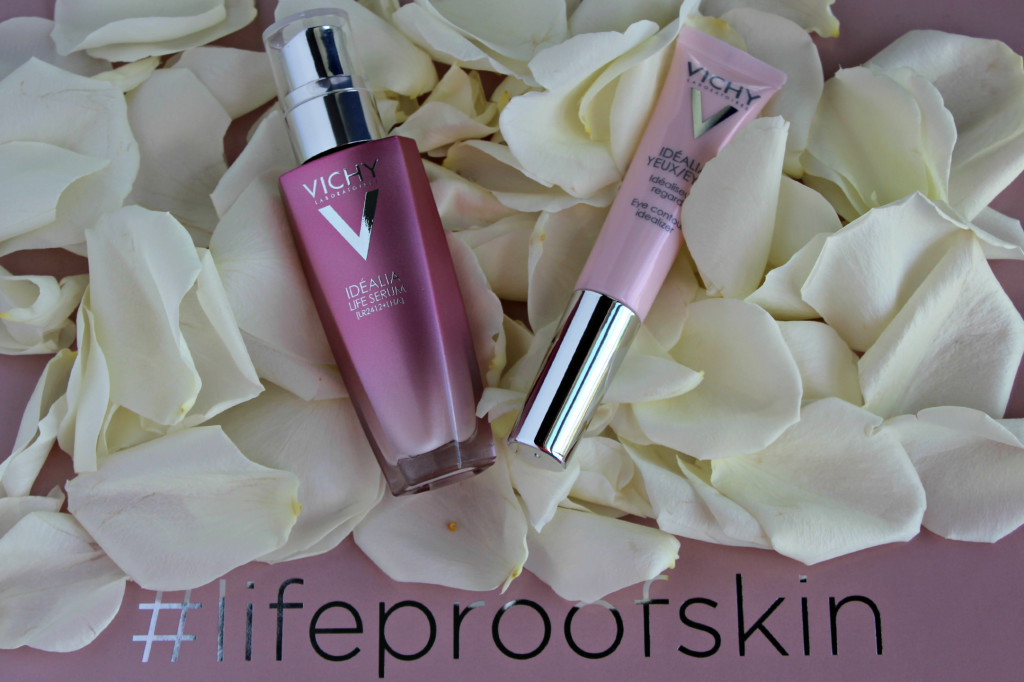 If you want to give Vichy a try, you can pick some up for yourself on their website, and this month they'll be available at Walgreens, CVS, Duane Reade, and Target Stores. You can also find Vichy Idéalia at your local Ulta store.
If you'd like to hear more about my skincare routine and what I use to achieve my #LifeProofSkin check out the video below.