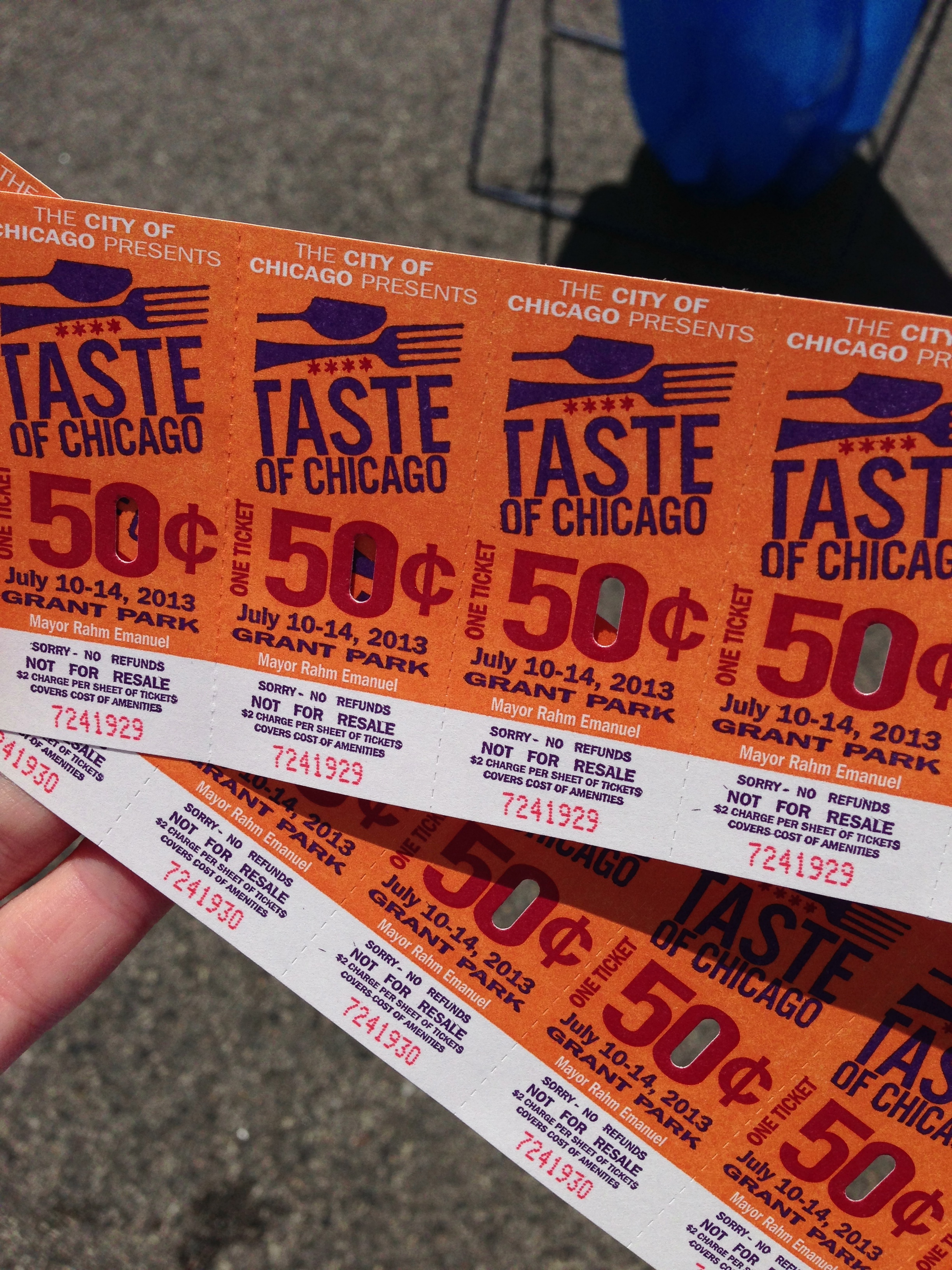 Taste of Chicago 2013 Recap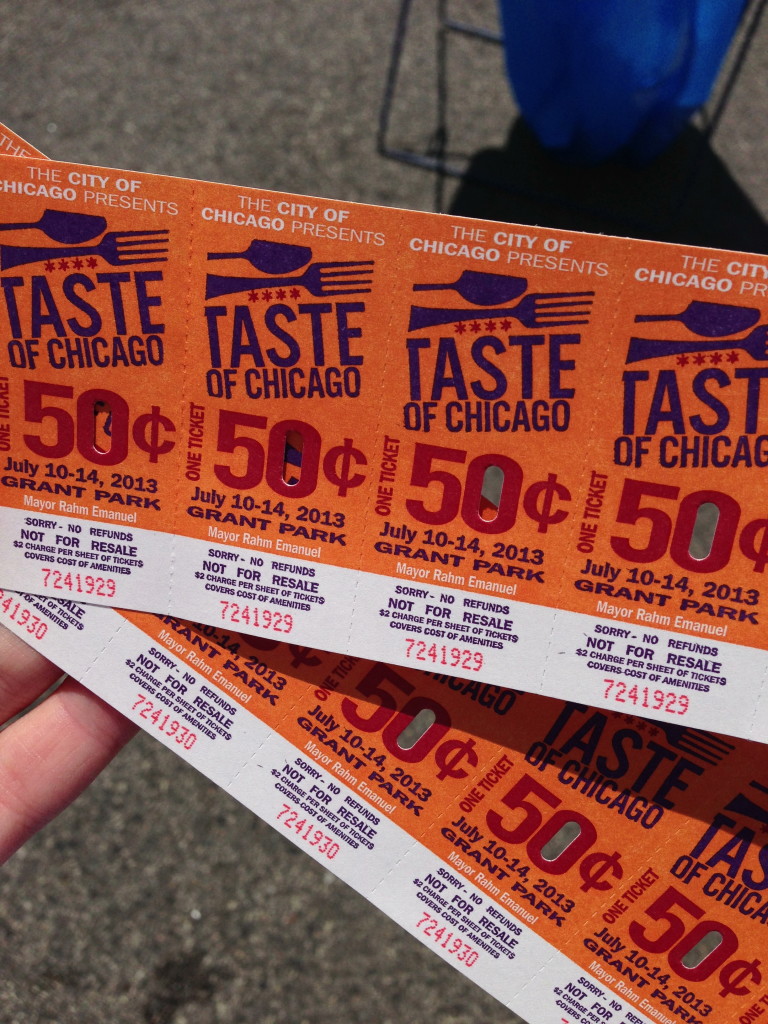 Yesterday, I went to The Taste of Chicago for the first time. Ever. For those who don't know, The Taste of Chicago is the world's largest food festival held in July, in Chicago's Grant Park, annually. The Taste of Chicago lineup this year was kind of "eh" but I was super excited to go there with my family and see what all the hype was about. If you follow me on Instagram you already know I was there because I uploaded a ton of pictures… if you don't follow me – we can't be friends anymore.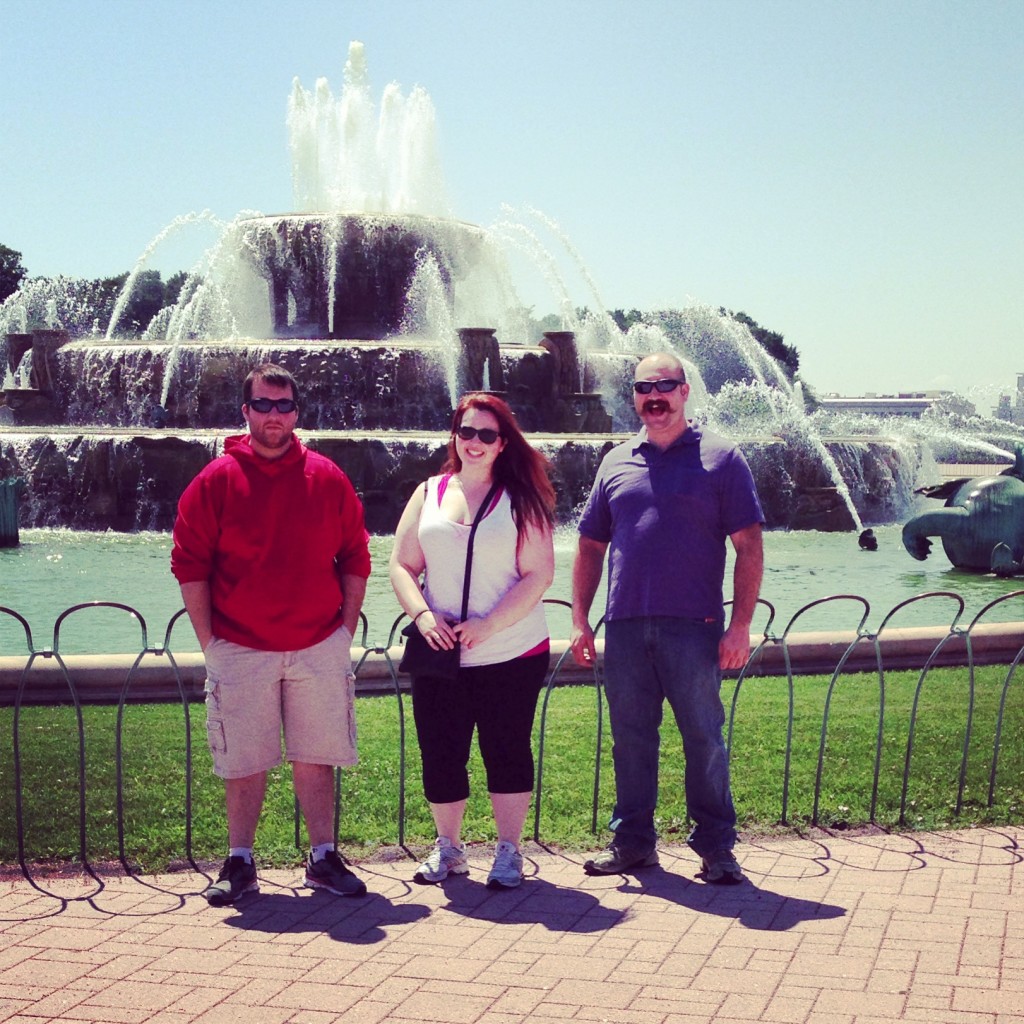 Overall, I had a great day and the weather was perfection. It was MUCH smaller than what I expected.. but with all of the politics surrounding the way Chicago is charging it's vendors and all that jive… I knew it was going to be smaller than it had been in previous years. And, of course, the vendor with the giant turkey legs wasn't even in attendance. Major bummer.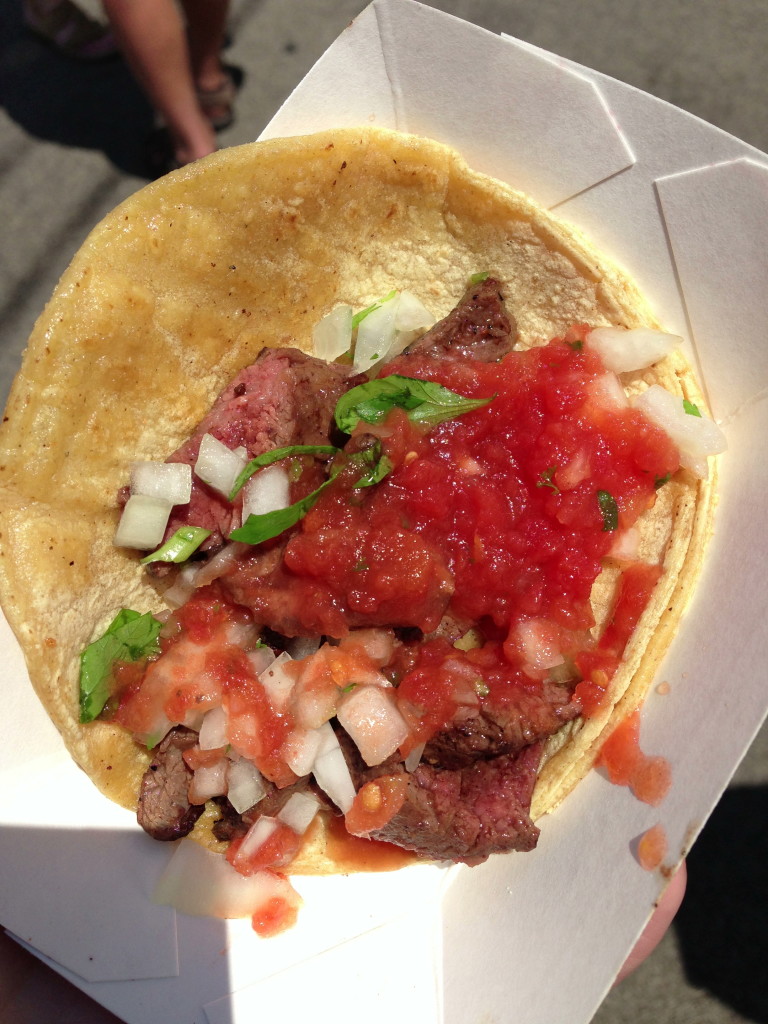 But the food didn't disappoint. These steak tacos were AMAZING! The most amazing thing that I've freaking eaten. Omg… how they made them so damn perfect every time is beyond me. They were only 4 tickets each and completely worth it. I kept going back to Carbon! And if you're looking for some bomb Mexican food… you should definitely check them out.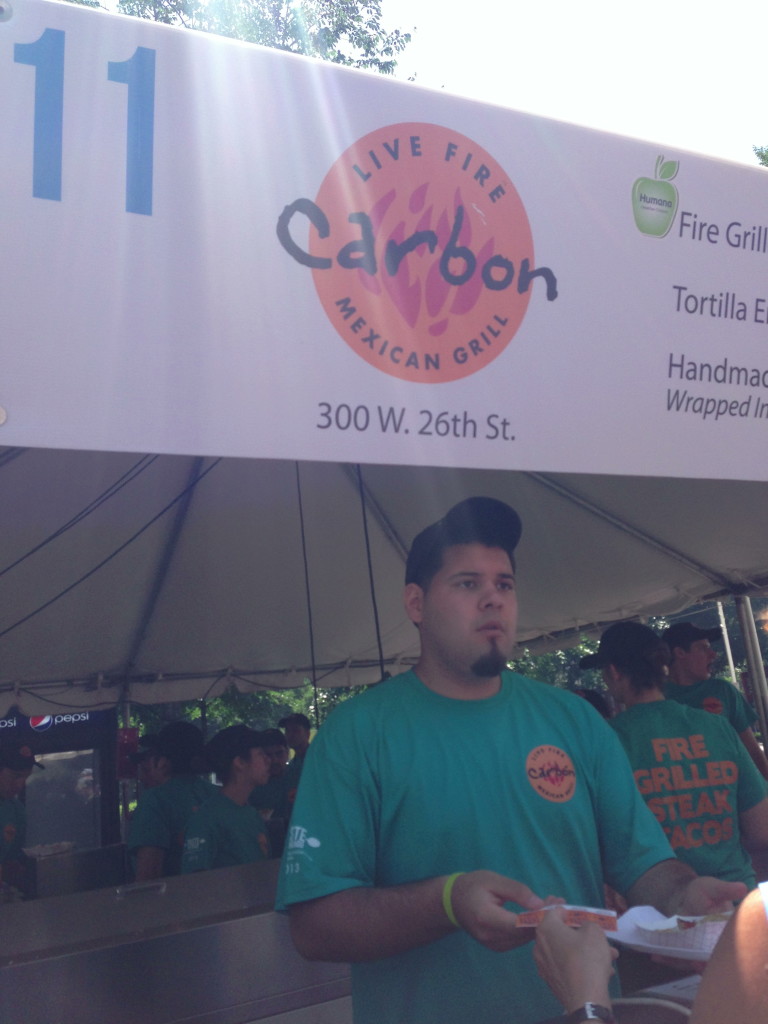 Thank you Mr. Taco Man. Let's do lunch, soon. Real soon.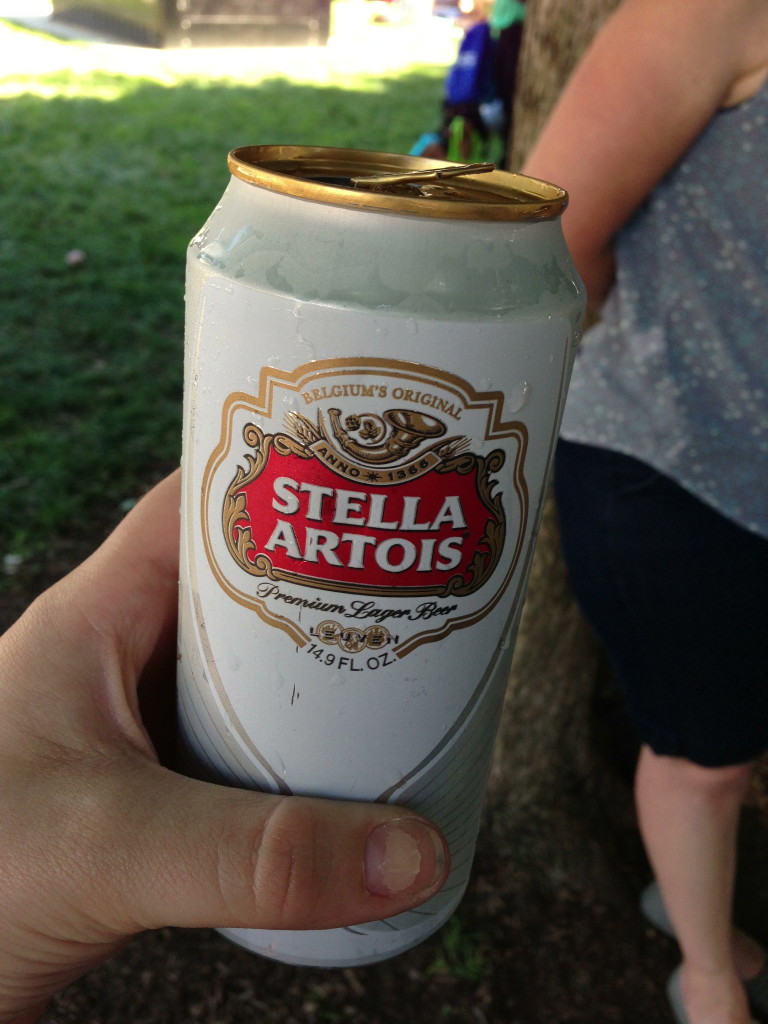 Food tickets will run you $8 for a strip of 12. Most taste size portions are between 4-5 tickets and the bigger portions are anywhere from 4-12 (from what I saw). Non-alcoholic beverages are around 6 tickets. This includes pop, water, and tea. And the beers were 12 tickets. So, about $8 each. If you're looking to get wasted… bring a wad of cash. Or a credit card… because the ticket booths accept cash and credit.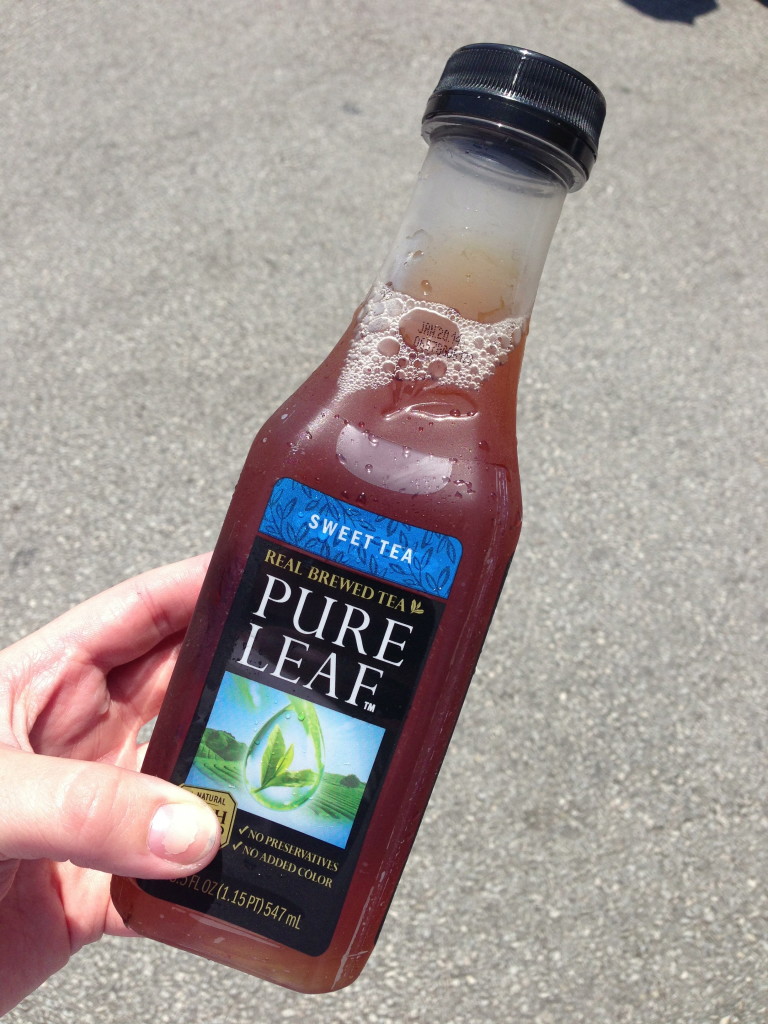 So, we started our day pretty early. We caught the 9:20 Metra from Aurora to Union Station for $13.50 (roundtrip) each. Turns out we didn't even need the tickets on the way back though… no one was checking them. So we all had spare tickets. I definitely recommend taking the train, if you can. Parking is expensive and a huge pain. And Grant Park is only about a mile from Union Station… no biggie. You should be prepared to walk anyway, because you'll be spending a lot of time on your feet if you plan to really get around at The Taste.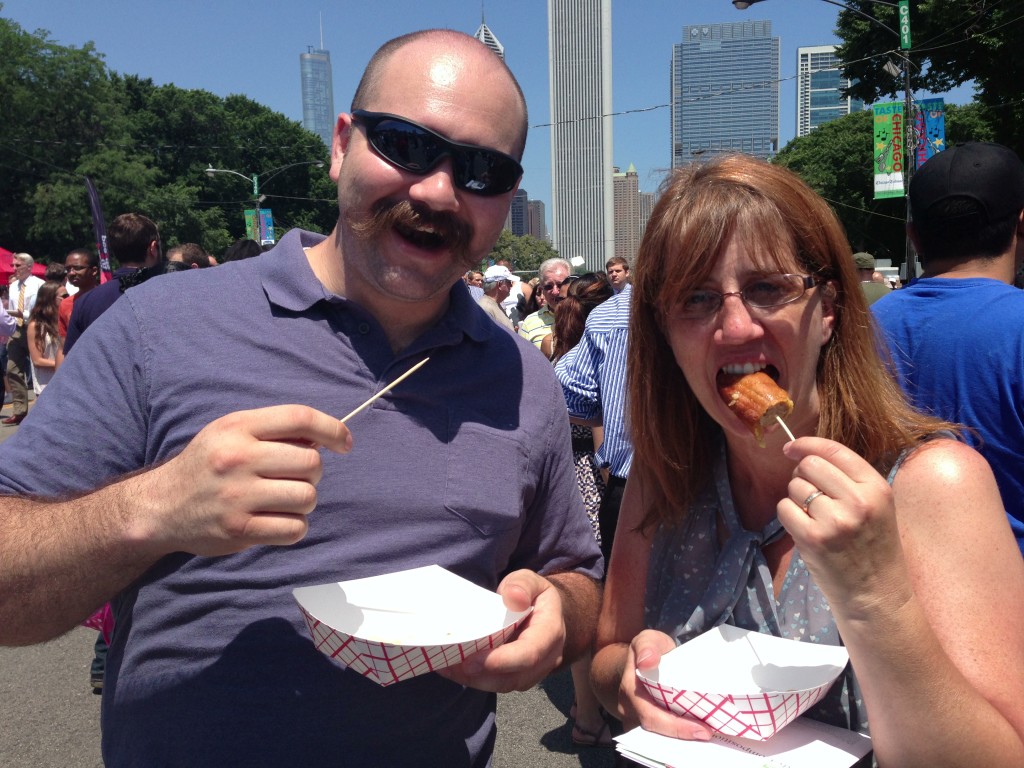 I'm a totally Type A kind of girl. So before we left I made sure to pack all of my essentials. I bought a cross-body bag with zipper closures and kept it close all day. Festivals are the perfect venue for pick-pocketers to take full advantage. Every time someone brushed up against me (which happened a lot) I stuck my hand on my purse and made sure I was good. Paranoid, much? Maybe. 😉

What's in my festival bag?
Wet Ones – Because you're eating with your hands, duh.
MakeUp Wipes – Incase my face melted off from the heat, I'd prefer to just be fresh faced.
Baby Wipes – Ladies, prepare to pop a squat. And hold your breath. Those Port-O-Johns are not what's up.
Hand Sanitizer – For quick cleaning post bathroom break. They do have little water/soap stations but I like my own fancy stuff.
Deodorant – Because you will sweat out your first application and no one needs to be musty. But oh so many people were rocking their BO!
Band-Aids
Sunscreen – I applied a spray before leaving because I look like Casper but I take extra for my ill-prepared siblings and to reapply if needed. Better safe than sunburned.
Advil – It's a long, hot day. I get headaches.
Gronola Bar – I get sick when I don't eat sometimes.
Compact, Chapstick, Lipstick – Cause guuuurl, you must keep up appearances. A little touch-up never hurts.
Business Cards – As Jay-Z says, "I'm not a businessman, I'm a business, man. Let me handle my buisness, damn!"  I'm always prepared. You never know when you'll make a connection.
Hair ties
About $100 cash, my ID, and a debit card – Avoid ATM fees and bring a little extra cash.
Headphones – I like to zone out on the train
Mophie & USB – I recently bought this Mophie charger for my trip and upcoming conference. This thing was perfect for me. Charged me back up in lightening speed straight from my bag. And it has two outlets so it could've charged my family's cell phones, too. A necessity for any social media junkie.
*Also, I took all these pictures with my iPhone 5. I love professional photos but there was no way I was going to lug around my DSLR. I love her too much, and didn't want to see her get hurt in the crowd. So my iPhone was dying extra fast with my constant camera usage.
All of this stuff fit super easily in my little cross body bag. And I actually used everything but the bandaids and headphones throughout the day.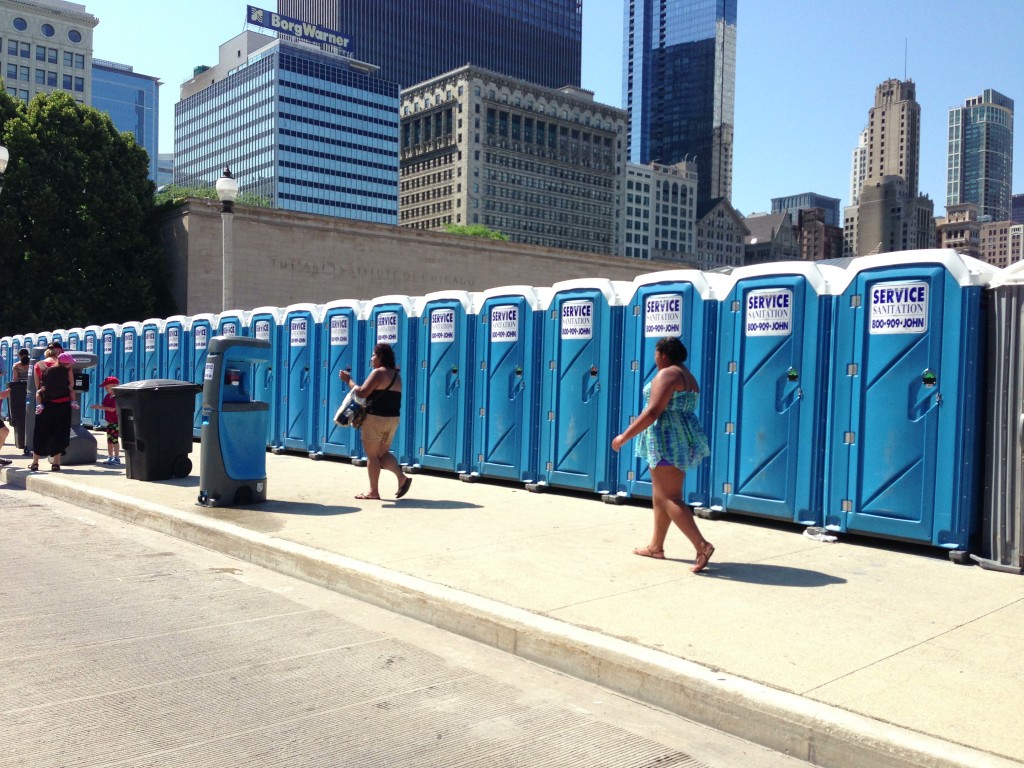 These things were all over the place and pretty freaking gross. I took this picture before the mad rush of people arrived.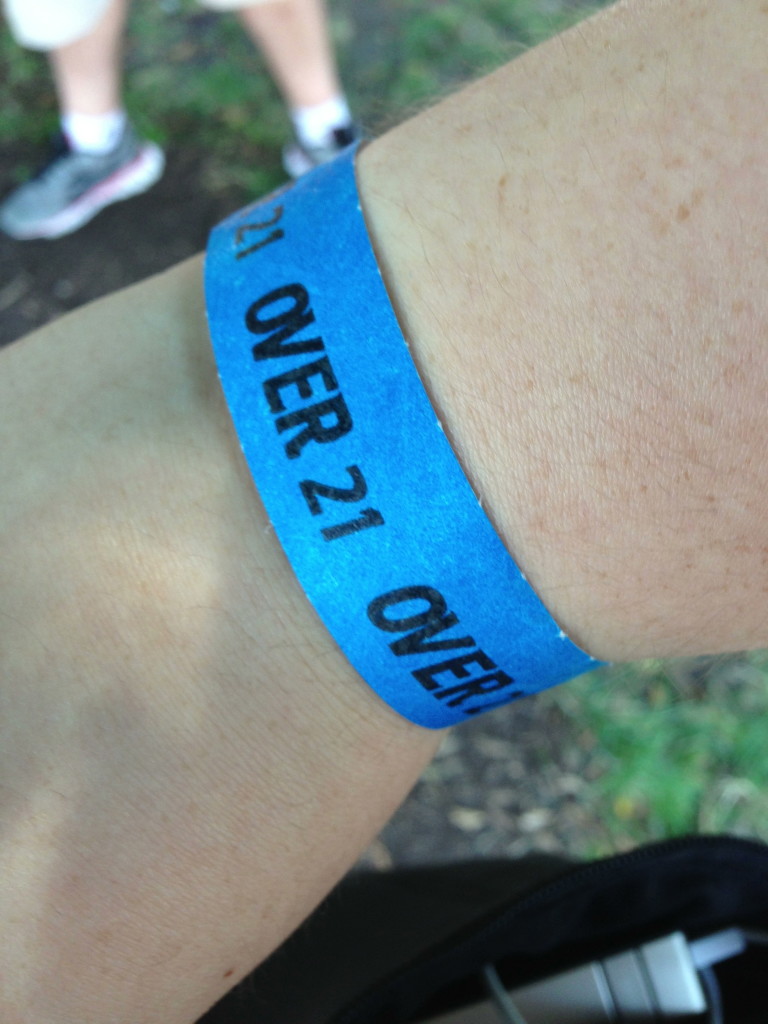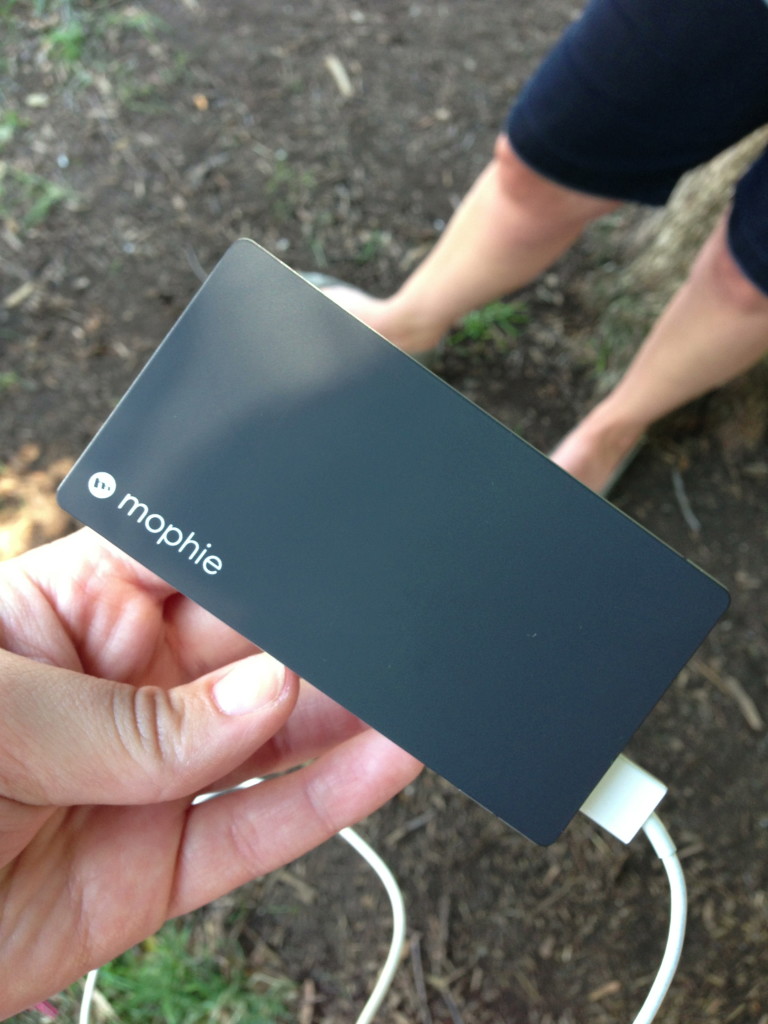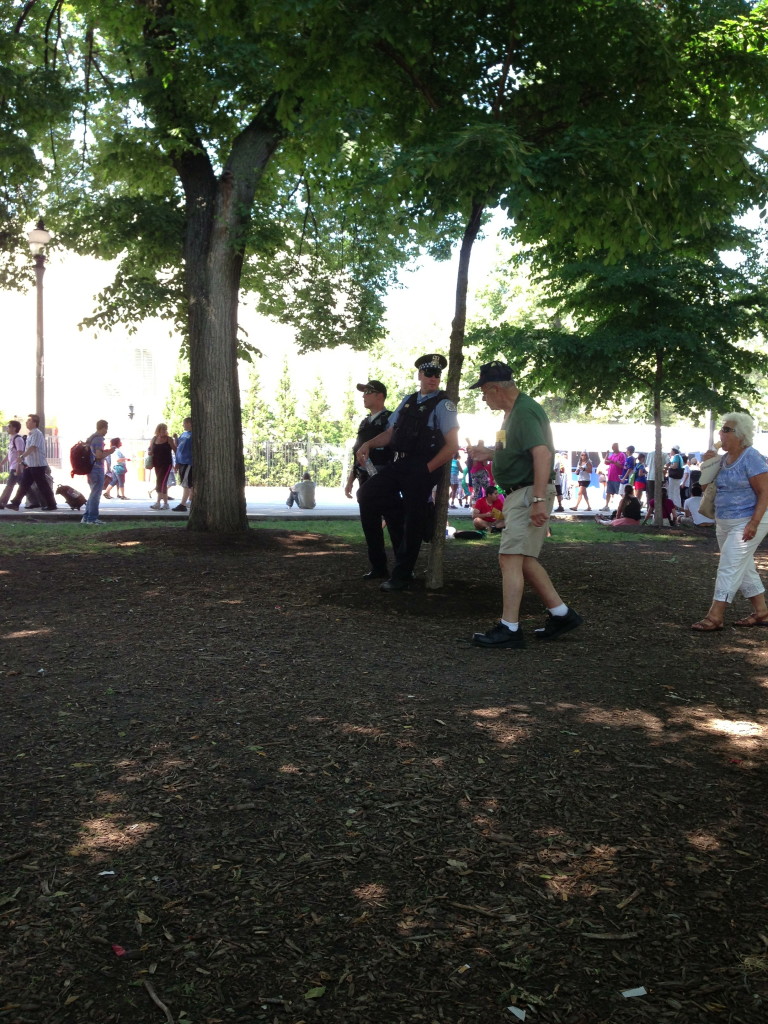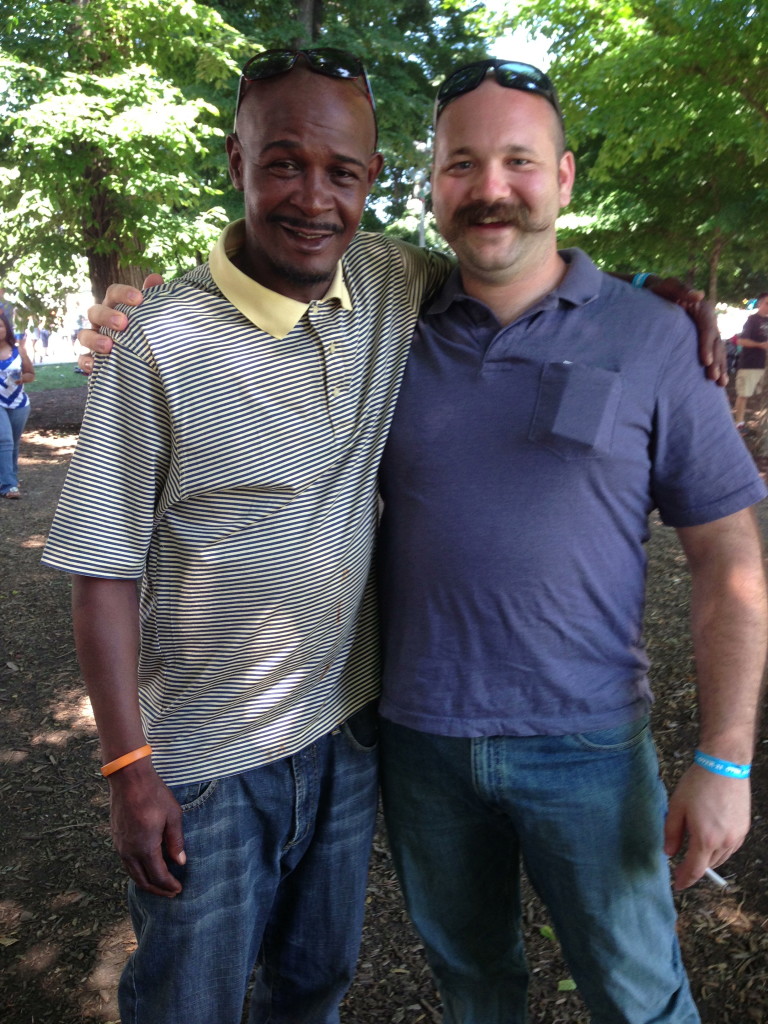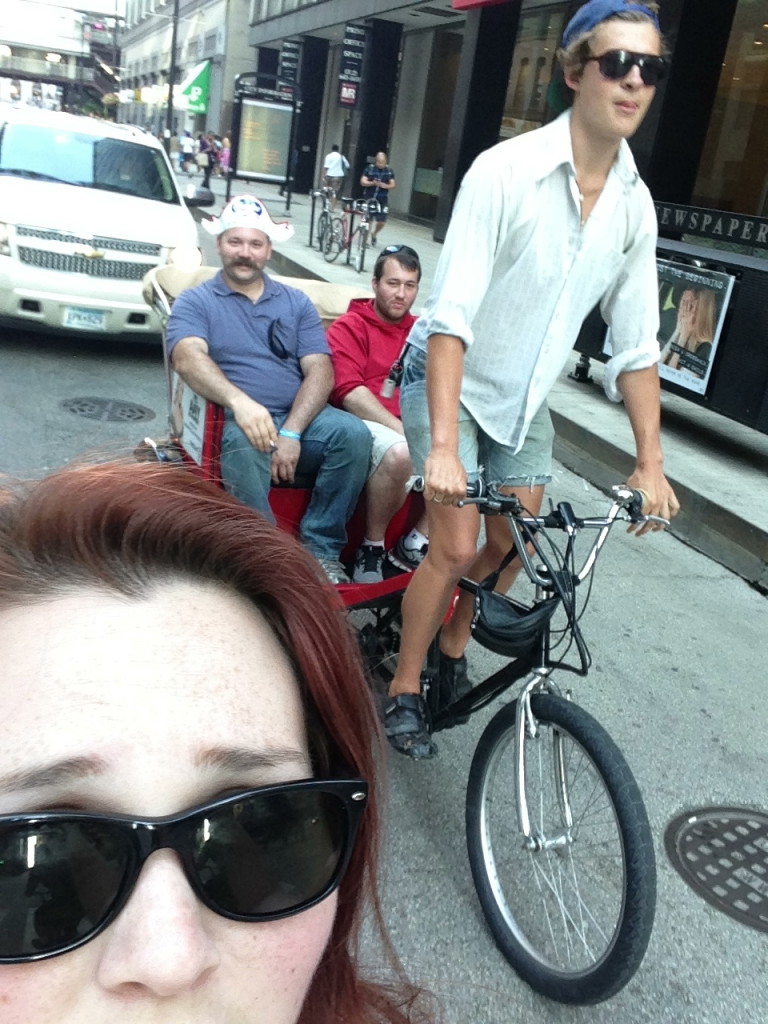 Overall, I had a pretty awesome time walking around Grant Park and trying out over priced food. I was most excited about getting to see headliner Robin Thicke perform but… that didn't happen. The park was PACKED by the time 5:30 rolled around and the actual seats were sold out. As much as I love me some Robin Thicke… it wasn't worth being all jammed together with a bunch of sweaty strangers. So we skipped the concert and caught the train back to Aurora.
The Taste of Chicago doesn't end for a couple more days and if you haven't gone yet, you should. Entrance is free and the people watching is Grade A! It was like a live version of "People of Walmart"… can't say I didn't fully enjoy myself. I wouldn't recommend taking kids.. because those parents look like hell. But if you do, there is a kiddie play area for them to frolic.
Have you been? Will you be going? Did you get to see Robin Thicke in his full Hotty McHotness? Color me jealous.